Facebook.st0{fill:#1c2b33}.st1{clip-path:url(#SVGID_1_)}.st2{clip-path:url(#SVGID_3_)}.st3{fill:url(#SVGID_6_)}
Last year we overhauled Avatars in VR to make them more expressive, more customizable and more diverse — but we knew it was only the start. We've been hard at work since then, expanding Avatars so that they better reflect the billions of unique people on this planet. Today we're taking that further, adding new facial shapes and assistive devices for people with disabilities. We will also be adding limited-time shirts for NFL fans to outfit their avatars in and celebrate their favorite teams.
We're beginning to roll out our updated 3D Avatars to Facebook and Messenger, and for the first time Instagram Stories and DMs. Starting today people in the United States, Canada, and Mexico can show up as their virtual self across apps via stickers, feed posts, Facebook profile pictures and more.
VR and Quest are key parts of our metaverse vision, but we see the metaverse as an interconnected digital world, one that bridges VR and AR, in addition to more familiar platforms like your phone and computer. Rolling out avatars across our platforms is an early step towards making this a reality. We hope your new virtual self enables you to be represented online the way you want — whether that's to friends and family, your local community or beyond.
More Options Than Ever
Today's update adds Cochlear implants and over-the-ear hearing aids (for one or both ears) in a variety of colors, and on all platforms including VR. It also includes wheelchairs, which will appear in stickers on Facebook, in Messenger chats and in DMs on Instagram. 
We're also improving the look of Avatars. We've subtly adjusted certain facial shapes and tweaked our skin shaders to make your avatar more authentically you. Here's an example of the same avatar last April (left) versus now: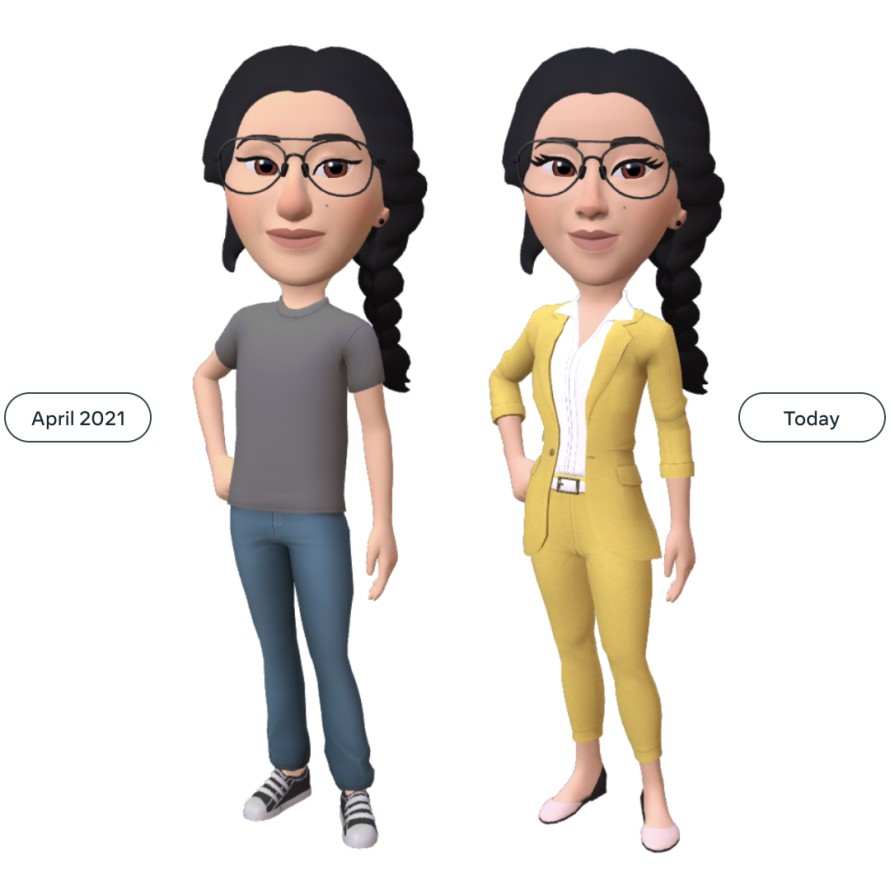 This is in addition to the work we did throughout 2021, adding new eyes and noses, beards and hairstyles, outfits, body types and more. Check back regularly throughout 2022 as we continue to add new items to the Avatar editor.
For NFL Fans
We're excited to partner with the NFL to bring NFL football fandom to Avatars. With Super Bowl LVI just around the corner on February 13, we wanted to give fans a chance to show off and celebrate their favorite teams. From now until February 28, you'll be able to outfit your avatar to support the Cincinnati Bengals or Los Angeles Rams — or if you can't bring yourself to cheer for either team, there's also a neutral Super Bowl LVI shirt you can choose instead.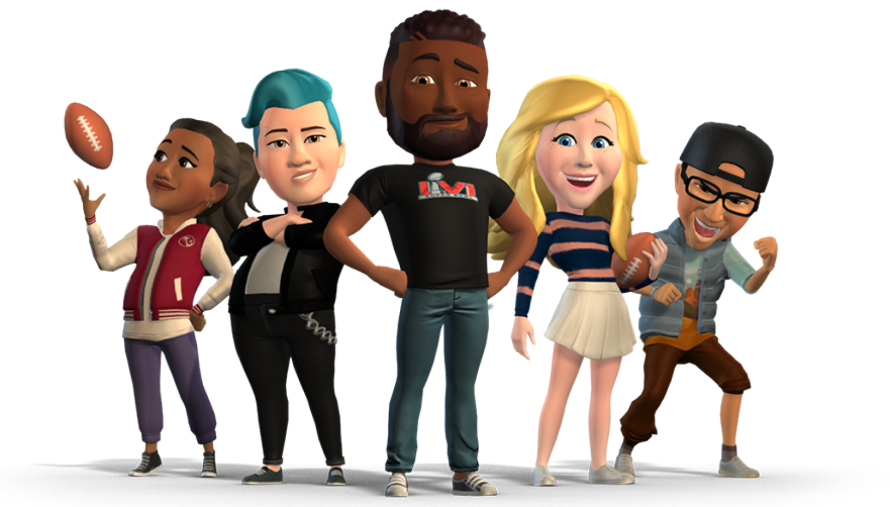 Entering a New Dimension
We're rolling out 3D Avatars across Facebook, Instagram, and Messenger to people in the United States, Mexico, and Canada, along with countries where we've already started rolling out. You'll be able to show up as your avatar in your Facebook profile picture, and in comments, stickers, stories, and more. This also marks the first time any of our Avatars have been available on Instagram.
If you previously created an avatar on Facebook in the past, get ready to see a new side of yourself — literally. Your avatar will automatically enter the third dimension as part of this update, and we're doing our best to make sure your new-and-improved self matches the choices you made previously. That said, there are a lot more options now than there were before! You'll have the chance to jump into the editor and make some changes.
We know you may want to represent yourself differently on different platforms, so right now you can create three different avatars if you choose—one for Facebook and Messenger, another for Instagram and a third for VR. And if you've set up Accounts Center and chosen to sync your avatar, any changes you make to your avatar on Facebook and Messenger will automatically appear on Instagram as well, and vice versa. Over time, our goal is to eventually make it easy and seamless to move your avatar from place to place if you want, so look for more updates on this front.
Follow Us
© 2022 Meta
To help personalize content, tailor and measure ads, and provide a safer experience, we use cookies. By clicking or navigating the site, you agree to allow our collection of information on and off Facebook through cookies. Learn more, including about available controls: Cookies Policy